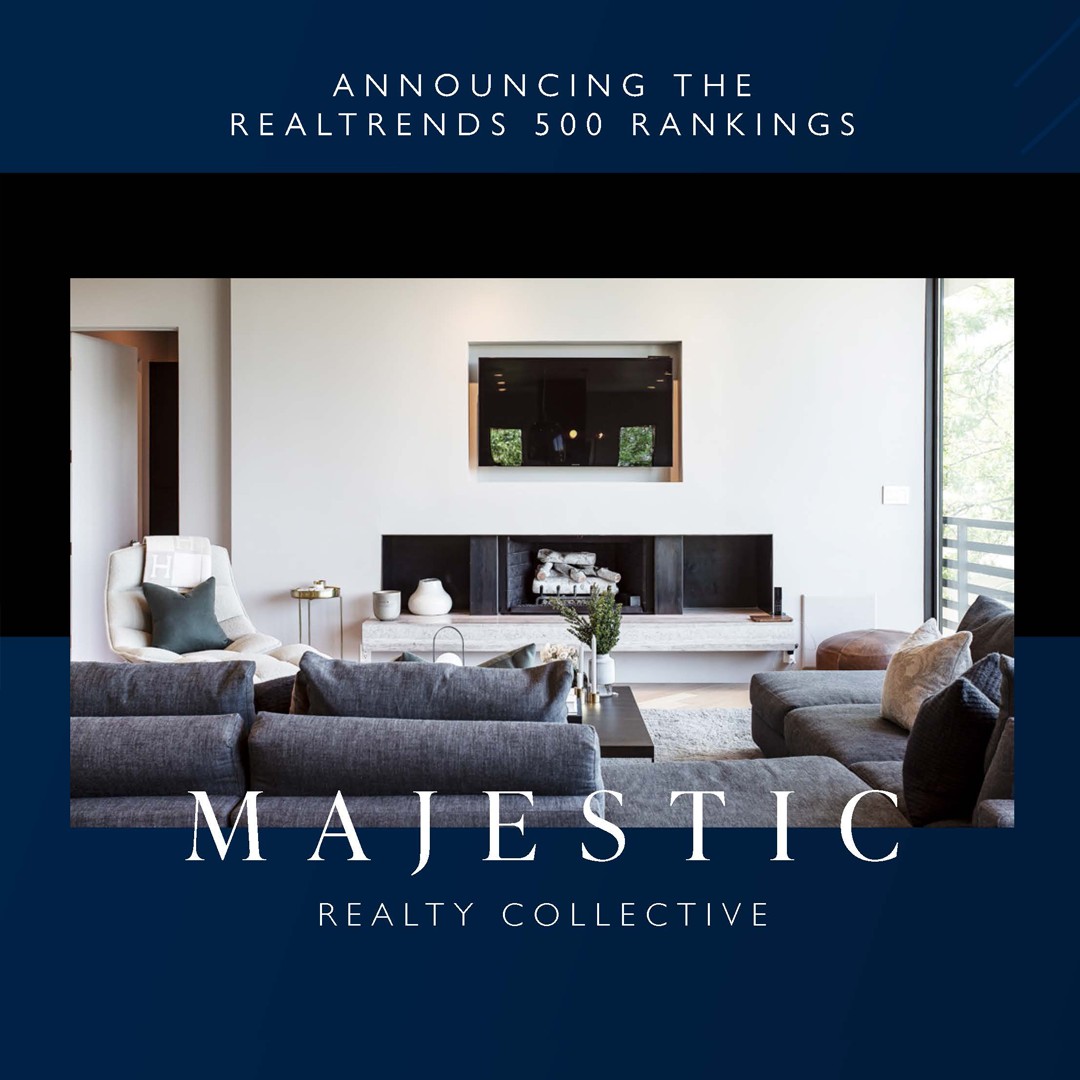 San Luis Obispo, CA – Majestic Realty Collective is proud to announce the firm's inclusion and national ranking in the 2023 RealTrends 500 report. Now in its 35th year, The RealTrends 500 report ranks the top 500 residential real estate brokerages in the United States by transaction sides and volume. The Majestic Realty Collective brands have been recognized for their top-tier performance in both categories, further solidifying each of the 9 Sotheby's International Realty companies as best-in-class in their respective markets. The collective was ranked as one of the top firms in the nation based on total closed sales volume in 2022, achieving an astounding 13.695 billion in closed sales across 5 states.
As an industry leader and key innovator in the Sotheby's International Realty network, the Majestic Realty Collective companies are rooted by a foundation of world-class real estate advisor support services and a mission of providing clients in all areas and price points an incomparable experience. With over 250 marketing, operations, transaction and accounting staff supporting 1,200+ real estate professionals, Majestic Realty Collective's approach to residential real estate continues to make waves in the industry at-large.
"This year's ranking is truly humbling," said Scott Webber, CEO of Majestic Realty Collective. Our mission has been clear: Be laser focused on the success and support of our brokers and sales advisors. With shifting markets come new opportunities and our professionals across the Majestic footprint rose to the occasion in 2022 – utilizing our tools and getting the job done for their clients, each and every day."
The RealTrends 500 program required each submitting brokerage to go through a rigorous verification process to prove sales production, agent count and transaction sides. Firms represented in the RealTrends 500 outperformed their market competitors in a wide range of categories.
"Our hallmark continues to be that we are agent obsessed," offered Thomas Wright, President of Majestic Realty Collective. From weekly strategy and market trends meetings to recruiting the most talented support staff in the country, Majestic Realty Collective is about making an impact in the lives of our agents and their clients. We are 100% dedicated to help our sales associates meet and exceed their business goals through full-service transaction management, marketing and visual media departments."
Majestic Realty Collective is comprised of Crest, Desert, Group One, Las Vegas, LIV, Richardson, Sierra, Summit and Sun Valley Sotheby's International Realty, operating in key luxury communities throughout California, Colorado, Idaho, Nevada and Utah. The Collective has been recognized by Inman, Real Trends, RIS Media and Who's Who in Luxury Real Estate for excellence in marketing, philanthropy, sales and new construction projects. Majestic Realty Collective has 57 sales offices throughout the Western United States and is headquartered in Denver, Colorado.
For more information on Majestic Realty Collective and their Sotheby's International Realty companies, please visit majesticrealrealtycollective.com.
###
Richardson Sotheby's International Realty is San Luis Obispo and California's Central Coast's leading lifestyle and luxury-focused real estate brokerage. For more information, call 805.781.6040. To service all of your real estate needs visit www.richardsonsir.com.