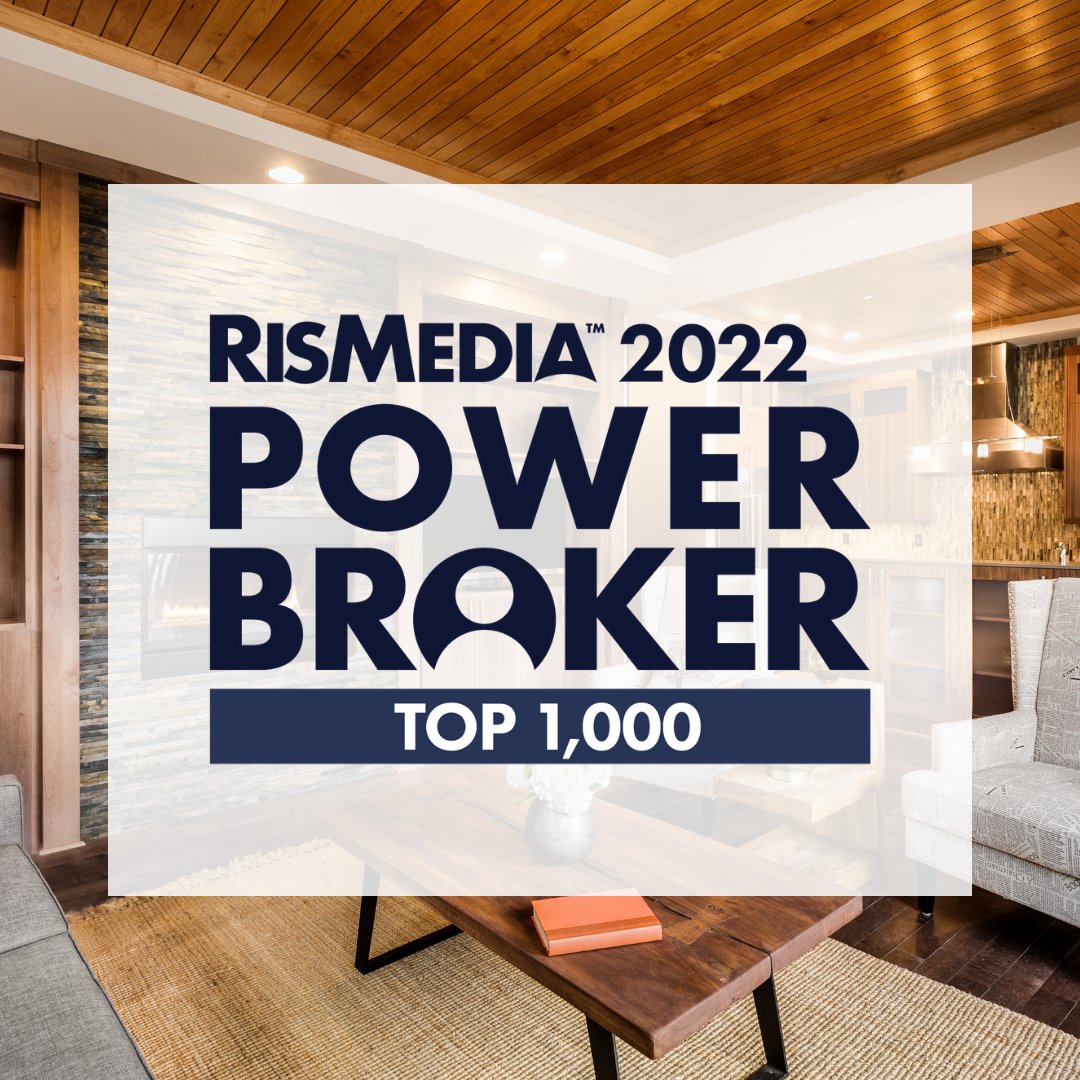 San Luis Obispo, CA April11, 2022 –Richardson Properties, San Luis Obispo's leading real estate brokerage, today announced its ranking as the number 864 real estate firm in the United States in sales volume, according toRISMedia's 34th Annual Power Broker Report. Richardson Properties reported a total sales volume of $477,337,000 in 2021, representing514 closedtransactions.
RISMedia President and CEO John Featherston praised Richardson Properties for its placement in this year's Power Broker Report. "Congratulations to all the leaders and their respective management teams and sales associates who have contributed to the collective success represented in the 34th Annual Power Broker Report," says Featherston. "2021 was a historical year with unprecedented benchmarks, and those who rank on our Power Broker list represent the tremendous success that's occurred in residential real estate over the past year. Looking forward, I am confident that this group will continue to forge ahead toward another successful year."
"It is wonderful to see Richardson Properties and the team recognized again as a top firm in the United States,"said Chris Richardson, President of Richardson Properties."We've been ranked #1 in total property sales volume in SLO County for two years running and Lindsey Harn was named one of America's top-selling realtors by TrendGraphix in February – it's been a great first quarter and we look forward to building on this momentum in 2022." 
The Top 1,000 2022 Power Brokers collectively earned more than $2.4 trillion in sales volume and engaged in more than 5 million transactions in 2021, through the commitment of 645,843 agents in nearly 12,000 offices.
Highlights from the 2022 Power Broker Report & Survey include:
    79% of Power Brokers indicated that a lack of inventory is currently their greatest challenge

    Nearly one-third of Power Brokers (30%) believe buyers and sellers who delayed plans in 2021 are their greatest opportunity

    Less than half of the Power Brokers (39%) describe their market as "booming," down 11% from last year 
Additional findings are available atRISMedia.com.  
Celebrating its 34th year, the Power Broker Report has long honored the incredible business feats of remarkable real estate leaders—and brokerage firms—who continue to shape our industry. Each April, RISMedia'sReal Estatemagazine highlights the Top 500 Power Broker firms according to sales volume, and the online directory version of the Power Broker Top 1,000 ranks firms according to sales volume and transactions. The complete ranking of the Top 1,000 firms isavailable here. 
###
About Richardson Properties (www.richardsonproperties.com)
As San Luis Obispo County's leading real estate brokerage, Richardson Properties | Christie's International Real Estate, provides innovative solutions and superior customer service through a team of dedicated professionals. The team strives to exceed client expectations while positively shaping its local communities. 
As an exclusive Luxury Portfolio International® brokerage, member of Leading Companies of the World® and Christie's International Real Estate affiliate; Richardson Properties offers an incomparable level of service and global visibility under brands that stand for trust, discretion, and excellence.
Leading the Way in Residential and Luxury Home Sales on the Central Coast. 
About RISMedia's 34th Annual Power Broker Report & Survey
RISMedia's 34th Annual Power Broker Report & Survey is based on an online survey of residential real estate brokerages in the U.S., conducted by RISMedia January – February, 2022. The survey ranks brokerages by closed sales volume and transaction sides in 2021. Brokerages must have a majority ownership interest, inclusive of subsidiaries, to complete the survey, and have had their submissions verified by the associated broker and accountant, CFO or other party who can validate the accuracy of the data submitted. There is no cost or obligation to participate in the Annual Power Broker Report & Survey.
About RISMedia 
RISMedia was founded in 1980 by CEO and Publisher John E. Featherston as the residential real estate industry's definitive source for news and information for real estate's most profitable and productive professionals. For over 40 years, RISMedia has provided the industry with news, strategies and trends, and premier educational and networking events, including RISMedia's CEO & Leadership Exchange; the Real Estate Newsmaker Reception & Dinner; the Power Broker Forum, Reception & Dinner; and Real Estate's Rocking in the New Year.
For more information, please visit www.rismedia.com.